On my recent trips on the Shimanami Kaido both by foot and on a bike, I was convinced that there has been an increasing number of serious road bike riders coming in. Quite a few of them even make a round trip between Imabari and Onomichi in a day! Since many people come all the way to the Shimanami Kaido just for cycling, we decided to experience the trip ourselves to make our running record public. As we had to stop for photo shoots and tech maintenance, the overall pace of riding was somewhat constrained. If you want to go full speed, two and a half hours might be good enough.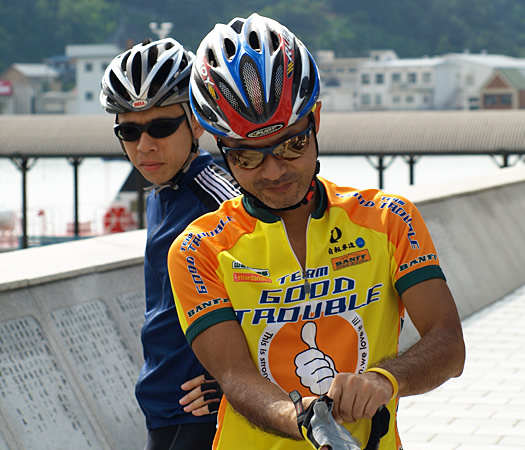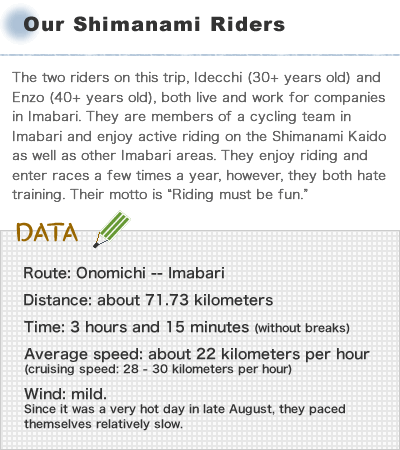 Cycling Report
Before taking off...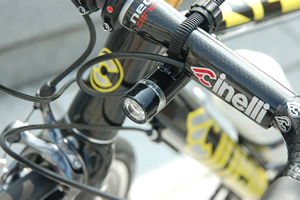 Headlamp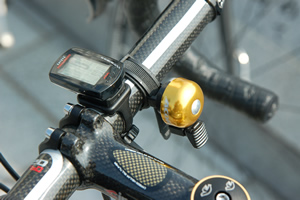 odometer and bell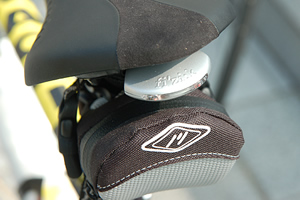 Reflector and saddle bag
Check your bike visually for anything that might be amiss. Checking brakes and tire pressure is a must. Inflate tires, if necessary.
Please note: Cyclists are required to follow the same traffic rules as drivers in Japan. All bikes are required to have a headlamp, a bell and a reflector. You must use a headlamp at night, in tunnels and during foggy weather of a visibility of under 50 meters.
Other than that, you should travel light. To ensure quality riding, be selective about what to bring. On this trip, we bring tools, a tire patch kit and a spare tube for emergency in our saddle bag. Also, there are a mini-pump, energy bars and a water bottle. Since you must stay hydrated while cycling, mineral water/sport drink should be at hand.
A helmet is an important item for safety, protecting your head in case of a fall or a collision. The straps must be adjusted properly. If they are too loose, the helmet will come away from your head and will not provide necessary protection in a serious impact. Ensure it's snug when you draw your chin.
As everything is ready, it's time to take off!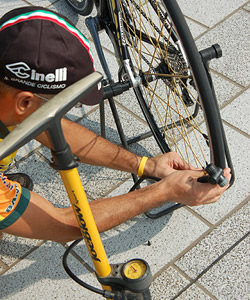 Check tire pressure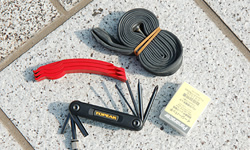 Repair tools and a spare tube should be kept
in a saddle bag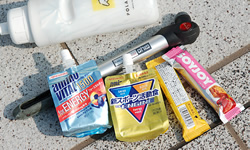 Energy bars and drinks are essential items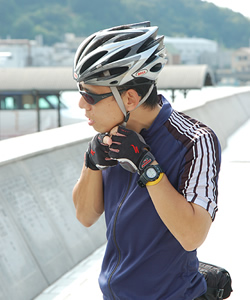 Helmet is a must-item
Start from Onomichi City, straight to Innoshima Island
The Shimanami Kaido starts from Onomichi City in Honshu. When you face the Onomichi Suido Strait from Onomichi-ko Port, you can see Onomichi Ohashi Bridge on your left. As Onomichi Ohashi Bridge is narrow and can be unsafe for cyclists, it's common to take a ferry nearby.
On this trip, we took a "Fukumoto Tosen," a ferry carrier located near Onomichi train station. The boat trip only takes a few minutes but it's a fun ride with Onomichi cityscape on the open waves. The fare varies among ferry carriers but the average cost is about 100 yen per cyclist. I paid 70 yen in total, including my bike.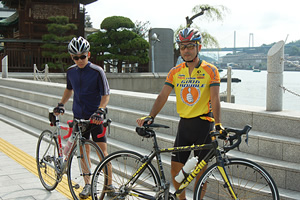 Onomichi is the starting point of the Shimanami Kaido on Honshu side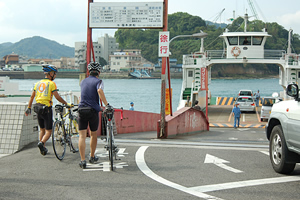 Taking Fukumoto Tosen Ferry to reach Mukaishima
The fare is 60 yen for adult and 10 yen for bicycle. Cheap!
Landing on the Second Island, Mukaishima
When we got off the ferry at Mukaishima Island, our actual cycling has begun. Dashing through a somewhat nostalgic small town, we take Route 377 to the west to reach the beach and then make a left. After riding for a while, we go under a red Mukaishima Ohashi Bridge, which is connected to Iwashijima Island. The view of the vivid red bridge against the backdrop of blue ocean and green mountains is quite striking.
The cycling route in Mukaishima Island is about 7 kilometers. Along the route, cycling signposts are set here and there, but the roads are not exclusively for cyclists. Since there are few signposts over some long stretches of the course, it's safe to consult with your map when you are not sure.
If this is your first trip, it might be tricky to find the entrance leading up to Innnoshima Ohashi Bridge's cyclist/pedestrian lane. After passing under Innoshima Ohashi Bridge and riding for about 500 meters, you will find a signpost on your left to the entrance to the pedestrian/cyclist lane. Please note that you have to ride for quite a distance after passing under the bridge.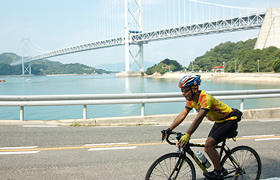 You see the entrance to pedestrian/cyclist lane for Innoshima Ohashi Bridge, a while after passing under the bridge.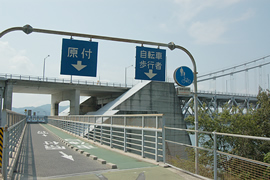 The entrance to Innoshima Ohashi Bridge. The lanes are separate for moped riders, and for cyclists/pedestrians.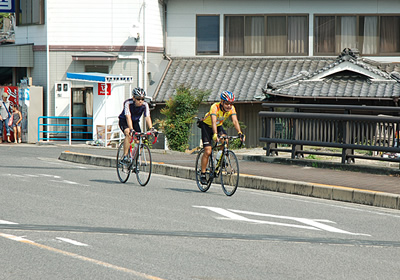 Rustic town, Mukaishima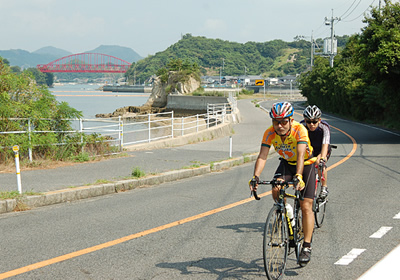 The red bridge behind the mountain is Mukaishima Ohashi that connects to Iwashijima Island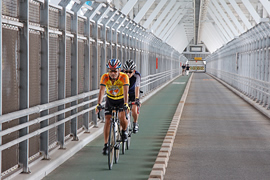 The cyclist lane on Innoshima Ohashi Bridge. The view from the bridge is obstructed by steel frames. Be careful not to collide with the dividing blocks on the road.
We are entering the ramp to Innoshima Ohashi Bridge. The height difference between Innnoshima Ohashi Bridge and the entrance is about 50 meters, the second steepest after Kurushima Kaikyo Ohashi Bridge. Since the ramp is not so steep, however, it's not such a grueling ride, if you ride slowly.
Unlike other bridges, Innoshima Ohashi Bridge has a rather unusual two-story structure: Pedestrians, cyclists and moped riders go on the lower level below the cars. To be frank, the view from the bridge is not so great, obstructed by steel frames. Although the lanes for pedestrians/cyclists and for moped riders are separate by color paint and cement blocks, the height of blocks are only 15 to 20 centimeters, and frankly, it's hard to see. The road can be dangerous for cyclists. Also, as there are many pedestrians on the same lane, you must pay close attention to them, too.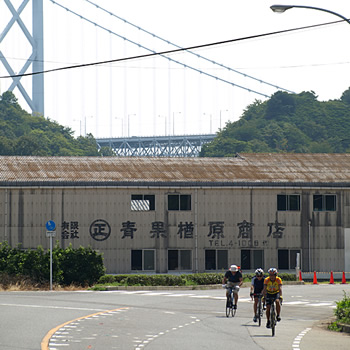 Landing on the Third Island, Innoshima
After crossing Innoshima Bridge, we've arrived on Innnoshima Island. We take the cycling road counter-clockwise. After riding for a while along the coastline, the road towards mountain leads us to the road passing in front of Innnoshima Flower Park. This road has ups and downs. Although it is not an official cycling course, there is another route on the coastline. If you prefer relatively flat road with an ocean view, this alternative route is recommended. Remember, though, the roads are not exclusively for cyclists, please be careful about local traffic. Even on the recommended cycling route, there are parts where you don't find cyclist lanes or have to share the road with cars. In terms of geography and traffic, Innoshima Island might be the hardest part for cyclists.
Around the entrance to Innoshima Flower Center starts a downhill and leads to the coastline. There are many shops for locals along the coastline and it's easy to purchase food and beverages here. I wish the signposts could be easier to find...
As we follow the coastline, the view of Ikuchibashi Bridge emerges. The entrance to the cyclist/pedestrian lane to Ikuchibashi Bridge is near Innoshima Minami Interchange. Passing through the car entrance to the interchange, you go under Ikuchibashi Bridge to reach the cyclist/pedestrian lane. Ikuchibashi Bridge is a 790-meter cable stayed bridge. The shape of the bridge is very elegant. With the refreshing sea breeze and the open view, we enjoy riding over the bridge.
It is a pain to ride uphill ramps every time we get on the bridges, but it is greatly rewarded by the euphoria riding over them, I think.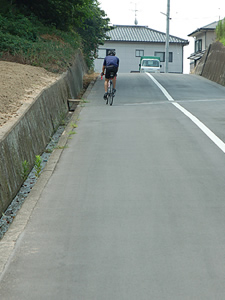 The road in front of Flower Center has ups and downs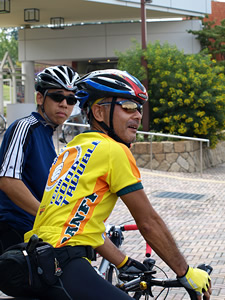 Taking a break in front of Innoshima Flower Park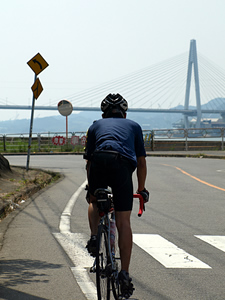 Ikuchibashi Bridge has come into view. Keep safe since the road is narrow with a lot of traffic.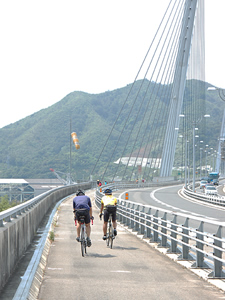 Crossing Ikuchibashi Bridge. How refreshing!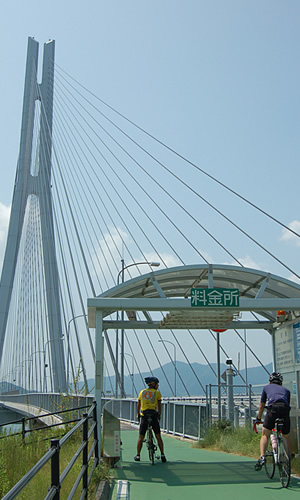 Tatara Ohashi Bridge is a must-see spot
The Fourth Island Ikuchijima
The cycling course on Ikuchijima Island has a comfortable route. There is Route 317 which hugs the coastline of the island. You can take either the northern route or the southern route. In the northern route, the roads are mostly flat except for the ramp leading up to Tatara Ohashi Bridge. You can enjoy riding with gazing out at the sea.
Along the way is the busy sightseeing area where Ikuo Hirayama Art Museum, Kosanji Temple, Kojoji Temple and Bel Canto Hall are located closely together. If time allows, we highly recommend spending enough time there. There are also many restaurants in which you can take a break.
Sightseeing spots can be populated with tourists, cars and buses, especially on weekends. So pay extra attention to the traffic.
After passing through the popular tourist site, we get back onto the road along the seacoast. Many say that the sunset view with islands emerging from the crimson-dyed sea like silhouettes is breathtaking. Unfortunately, we couldn't take the time on this trip, but it might be a good idea to ride leisurely on Ikuchijima at the sunset next time.
After passing through Sunset Beach, you find Tatara Ohashi Bridge, one of the most popular bridges on the Shimanami Kaido.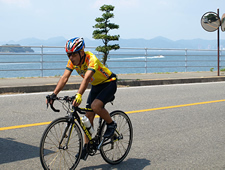 Awesome ride on the coastline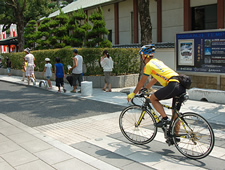 Be careful about pedestrians when you ride in front of Ikuo Hirayama Art Museum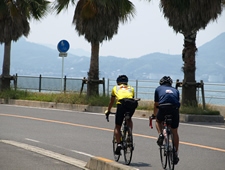 Flat road continues on the coastline.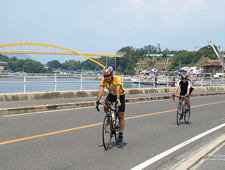 The yellow bridge is Konebashi Bridge which links to Konejima Island.The contrast against the blue sky is strikingly beautiful.

© Imabari District Sightseeing Association